Discussing Sustainability, Tech and Entrepreneurship with Serial Beautytech Entrepreneur Yeeli Lee
Yeeli Lee, Founder of B Human
"Rainmaker" and "Armadillo" are uncommon words to describe a person. But, few other descriptors are more apt at depicting self-professed serial entrepreneur Yeeli Lee. And, as I later learn, these traits also capture her ethos of design thinking and passion for devising creative solutions, amidst her quest to heal the world.
We had initially met at a Menswear trunk show organised by Textile and Fashion Federation (TAFF) Singapore, where she had been promoting her latest venture B Human. "What's the first thing that comes to mind when someone mentions climate change?" The elegantly-dressed Yeeli quips. That day, she was wearing a white sleeveless blouse, her outfit radiating like a glimmering heroine as one of only two female founders in the male-dominated room (granted, it was a Menswear trunk show).
Sustainability? Veganism? Armageddon? These words whirled in my mind as a bewildered me gazed around her booth. I know that sustainable fashion is in vogue, especially given these troubled times, but what is this label selling? Every other booth around the event venue had neat racks of clothes lining their spaces, with enthusiastic designers sharing with visitors about their brands, design processes and clothes. 
The centerpiece of Yeeli's booth, however, was a large, white bathroom sink.
Not a single garment lined her booth. In fact, her booth was completely devoid of apparel or accessories! In place of draping clothes or neat display boxes of shimmering jewelry, brass scales hung at different heights. Lush greenery and hanging trellises surrounded her booth. Her space felt like a calm eco-sanctuary that provided respite from all the blatant clothing consumerism surrounding us.
"Sustainable production?" I blurted, in response to her question. She smiles, before sharing with me more about her newest venture. Slowly, everything made sense – the scales as brass scales of justice (which was also a creative functional balloting system for her lucky draw), while the lush greenery reflected her passion and commitment to preserve our environment. And of course, the sink in the centre of her booth spoke to the core of B Human – the world's first skincare product designed for climate change. As a stylish yet functional booth that reflected her penchant for environmental social justice while displaying her product, her space was probably the most thoughtfully-designed of all the exhibitors.
Yeeli's Booth at the Menswear Trunk Show
I had to find out more about this lady and her innovative brand. The following week, I found myself back at Design Orchard, to learn more about Yeeli and her ventures.
For somebody whose passions revolve around a global emergency that poses an existential threat to humanity, Yeeli's demeanor is calm, cool and collected. But she is on top of things, and always hustling. On the day of our interview which was scheduled at 9am, she was already seated at a hotdesking section of The Cocoon Space in Orchard, sketching product designs and working away to prepare for the official global launch of B Human, scheduled on Earth Day – April 22, 2020.
She's clad in a beige linen maxi-dress, and immediately sweeps away her work upon my arrival, in anticipation of the interview. 
Having had two decades of experience under her belt, Yeeli is never complacent about her achievements. Instead, she is always anticipating upcoming trends, is a strong believer of being "woke" and aware of the present and lasting impacts of climate change. We continued our conversation about B Human.
"B Human is the first skincare brand designed for climate change. Our global launch will be on  22 April on Kickstarter," Yeeli begins. "It all started with a sea turtle. Two years ago, a video of a sea turtle with a plastic straw through its nostril went viral. This is when a group of us, all passionate about social impact and sustainability, got together to create solutions to combat climate change", she shared, an avid diver herself. (She's been diving since 1995!)
Why skincare? "At the height of the K-beauty trend, using a 10-step skin care routine exemplifies self-care." Yeeli says. However, she goes on to identify how this breeds a mindless overconsumption of plastic. "The beauty industry produces 120 billion pieces of plastics a year, and a lot of them are single-use plastics. It takes us 15 minutes to use a sheet mask, but more than a lifetime for plastics to biodegrade." Most people throw their skincare products away after emptying them. "In addition, packaging is important – 60% of consumers purchase skincare according to product design and how the packaging looks." 
Armed with these insights, Yeeli has devised a solution to enhance the lifespan of skincare products, making them more sustainable. Sustainable skincare becomes her instrument to tackle the global problem of climate change. With B Human, she says, sustainability is embedded end-to-end throughout the design of the product, from initial design, formula through packaging. Design thinking has been embedded into the ideation process from Day 1, she proudly proclaims. From the outset, she knew that the materials of the bottle had to be biodegradable and easily recyclable. 
"Our packaging is beautiful," she says, taking a sample bottle from her handbag. "The bottle is made out of bamboo, speaking to our Asian origins. Bamboo is also naturally antibacterial, water resistant and environmentally-friendly. It's simple, minimalistic and it speaks to values of the people who own B Human. Some people will want to keep it around to display it or even to reuse it." When prodded about the size of the bottle (each bottle weighs below 100g), she shares that the size has been designed with ease of use in mind, it is a perfect carry-on companion for those who travel often. In addition, the refillable bottles are made of aluminium that has been recycled 6 to 7 times on average, presenting a sleek metallic finish while retaining that environmental-friendliness B Human is known for.
With such a mindful, methodological approach to design, I was intrigued about her approach to sustainability, and her brand's position on clean beauty. "So, what is clean beauty to you?" I asked. Clean beauty has been part of the Beauty conversation for a few years now, with companies such as Drunk Elephant, Lawless and Kosas Cosmetics in the United States leading the new standard of beauty. According to Goop, another leading clean beauty brand, clean beauty refers to non-toxic products that are made without ingredients linked to harmful health effects. 
While brands strive to create safer and more transparent products, no company has been designed from the ground up to combat the global issue of climate change. 
This is where B Human comes in. "To me, clean beauty means no toxins, being vegan, and no testing on animals." Yeeli further goes on an impassioned discourse on animal testing, before sharing with me about how B Human is a clean beauty brand and more. "I call them the 3Ps – people, planet and pets", she says, sharing more about her brand philosophy. 
Her brand philosophy is not built on baseless virtue and oft-echoed sound bites born from today's hype surrounding sustainability. As a mother of two teenagers, she explains how the youth of today is leading the climate change movement. "Climate change is connected to everything – from the air we breathe to the water we drink, and even to the property prices of where we live," Yeeli said. Yeeli's fascination with animals and the planet trickles down into all aspects of B Human, from the website's landing page, marketing brochures and even right down to her choice of words (Remember how she described entrepreneurs at the beginning of this feature?). 
As a nature-lover who acts with such strategic intent, how does she consume sustainably? "[By] being much more mindful and purposeful about every single decision that [I] make." She proceeds to share a personal example. "I used to shop at Mango and Zara. But nowadays, I actually quite enjoy swapping. So I hang out with my daughter at The Fashion Pulpit where we swap [clothes with others]. We bring clothes that we have in good condition and we swap so that's one way for me to be more purposeful. Everything that I buy, I want it to be used longer." In the past, she acknowledges that cheap was good enough, and there was a focus on fast fashion. "The 3 outfits that I wore to events recently – the trunk show, the Ivy Ball and to an incubator Demo Day – were all swapped." she grinned. 
While sustainability and clean beauty are issues close to her heart, B Human is not only founded on the grounds of passion and blind idealism. You might have noticed Yeeli's obsession over numbers and data:
"3P brand philosophy." 
"60% of customers purchase according to packaging design." 
"The average consumer owns 40 makeup products but only uses five – 87% of their products are wasted."
This fascination with numbers speaks to her past as an electrical engineer and experience as a management consultant. Having cut her teeth for 4 years at one of the top consulting firms in the world, where she was involved in "solving some of the largest companies' hardest problems," it has become second nature for her to compartmentalise problems down and devise innovative solutions. Her experience as a behavioral marketer at PRS In Vivo, a leading behavioral science agency, also contributed to her laser focus approach in her quest to act against climate change with B Human.
But, why strike it out as an individual entrepreneur when larger, longer-lasting changes can be made by larger companies – especially ones where she had worked at? "Large corporations have scale, which is something that small companies don't," Yeeli admits. She also concurs that more and more companies are applying to be 'B Corp-certified', reflecting their commitment to listen to their shareholders and meet Environmental, Social and Governance (ESG) goals. However, "until big companies are more "woke", it is up to us consumers to do what we can." She also stresses the understanding that it is more challenging for MNCs to change immediately because of long-term contracts and workflows that are deeply integrated throughout the multiple stages of their supply chains.
While immediate change cannot be effected from a large company, she has cleverly adapted insights gleaned from her experience at Amazon into B Human. For instance, an oft-reiterated concept at Amazon is the' "flywheel effect". A flywheel is a heavy revolving wheel that is used in a machine to increase momentum, therefore providing greater stability to the machine. It is initially difficult to begin moving the flywheel due to its weight, but after it has started spinning, the momentum allows the wheel to spin continuously on its own, creating a self-reinforcing loop.
The Amazon Flywheel (Image Source)
Yeeli observes parallels between the flywheel and her startup process, leveraging on the concept to resolve the toughest challenge plaguing any early-stage startup: Driving customer traffic. In his book "The Everything Store: Jeff Bezos and the Age of Amazon", author Brad Stone explains the flywheel effect in relation to a website's traffic: "Lower prices led to more customer visits. More customers increased the volume of sales and attracted more commission-paying third-party sellers to the site." This allows Amazon to keep fixed costs low, while maintaining a sustainable stream of customer traffic. 
Likewise, at B Human, Yeeli's skincare products are designed with affordability in mind. While an affordable price point encourages more people to purchase her products, she adds that this also solves sustainability's inequality problem. 
Traditional green and environmentally-friendly products are often costlier than their mass-produced equivalent. Sustainable products have unique traits: they are usually made from organic, vegan or upcycled materials. Additional specialised measures have to be taken during production, driving up costs of production that are reflected in higher retail prices. As a result, fewer people have access to these products despite their desire to support the sustainability movement. 
By pricing her skincare products more affordably, B Human broadens its customer base to create a more inclusive community. These measures can be taken at B Human because of Yeeli's strategic (or ingenious) design thinking approach from Day 1.
B Human is on track to launch on April 22, Earth Day. The brand worked with Clean Beauty experts in the United States to verify the formula, and B Human had just presented at a Demo Day organised by The Bridge Fashion Incubator (TBFI), a sustainability startup incubator in Singapore. Indeed, it seems like B Human is on a smooth path to a successful launch.
Yeeli with the first TBFI Cohort on TBFI Demo Day 
However, Yeeli maintains that the journey has not been easy, and is far from over. Despite her laudable achievements and past experience, she still faces challenges with running a business. "Hiring," she says when prompted to share the largest challenge facing her business today. "Convincing the right kind of people to join [a startup] and take a risk" is always challenging. She has been fortunate to have some of the best minds to bounce off ideas and to help support her mission – including fashion retail consultant and Lyra Ventures Partner Debra Langley, brand guru Calvin Soh, tech maven Sean Liao and many others.
Yeeli is no stranger to struggles. Nor is she surprised by the sheer unpredictability and variety of people out there. "That's very brave of you," she recalls the reaction of some people when she had first shared she wanted to start her own venture. "Which is an indirect way of saying, 'that's very foolish of you'," she chuckles. Yet, she is grateful for the support she has received along her startup years. She identifies her largest supporters as her closest friends and family. "My closest friends said, 'that's about time. Instead of building something for someone, why not build something for yourself?" 
It seems this question continues to propel her forward and shape her into the active doer she is today. "Move quickly, get it done, get feedback, minimise exposure and do it again," she recites like a veteran football coach when asked about tips for aspiring entrepreneurs. "It takes a particular kind of personality to do that iterative process and intentionally make mistakes," Yeeli admits. 
This specific personality type, however, does not refer to a reckless adrenaline junkie, or individuals roused by the allure of glamour. Instead, she compares this person to "a rainmaker" and "an armadillo". Not only must he or she weather any unexpected blows or setbacks, but they also need to be highly resourceful and hypothesis-driven. "Understand the problem you are trying to address. Look at main cost drivers. Identify pain points. What problems are you trying to solve?" She responds, when asked how entrepreneurs can build successful and sustainable businesses. At the same time, she maintains that this individual also needs to be humble and approachable, in order to actively learn from others and gather their feedback.
Yeeli is also a fervent believer in the power of collaboration when first starting out. "水涨船高," she shares a Chinese saying, referring to an economic aphorism that a rising tide will lift all boats. She reinterpreted this saying into her distinct point-of-view, transforming it into a personal mantra when starting up. "While you're small, collaboration and working with someone is very important to minimise risk and costs. Collaborate and share your costs and customer segments. Cross-sell and be part of communities. Don't do it alone."
In one of Yeeli's other ventures, together with Sean and his team, they have developed an evidence-based A.I. beautytech that combines 3D facial analysis and environmental attributes to provide personalised skincare recommendations. 
To put this into perspective, consider this: what kind of air is your skin exposed to when you travel to cities such as Beijing or New Delhi or Jakarta? "Data helps us correlate the interconnections between a person's skin, the environment he or she has been exposed to and the ingredients that work for him or her. As a consumer myself, I welcome this type of personalization. Studies have shown that most of us (in particular male shoppers) are wary when a retail advisor tells us we need to buy $200 worth of products to look better because we know they are commision-based sales. Technology leads to less waste – just ask Sean who happens to own many more skincare products than me." she laughs.
Conversing with Yeeli infects you with her unbridled optimism for the future, combined with a sense that nothing is impossible to achieve. You may even want to get off your feet and just start making something! It almost makes you forget that all of this is directed at resolving a global emergency that poses an existential threat to mankind. We're so captivated by the vigour with which she's running towards the destination, that we almost forget how the solution to climate change – and Earth's destiny – lies entirely in our hands.

Check out B Human's website here.
Festive seasons are around the corner and getting ready in terms of fashion sense is vital. This article provides five inspirational looks for the new year's celebration and Christmas 2022
Read More »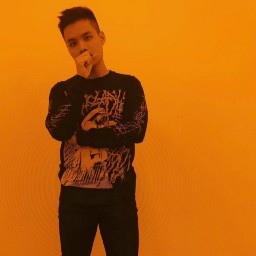 About the Author
Thaddeus Asher Han
Fashion Commentator & Creator
Fashion Journalist at Fashive
https://medium.com/@thaddeusasherhan

Some of Our Courses to Check Out