About the Course
This course provides a great foundation of Apparel production and overview of textile and apparel industry. Apparel manufacturing involves raw material, man power, machines, supply chain and defined set of process in bulk production.
What will you Learn?
Understand History of Apparel Industry
Structures of Textile and Apparel Industry
Apparel Product Life Cycle
Order Confirmation process
Apparel Production Process and sequence
Who is it for?
This is meant for Fashion buyers, Merchandisers, designers, product developers, tech designers, quality assurance, sourcing and factory manager
Duration
4-5 hours
Course Partner
This Course has been designed in partnership with TaF.tc International
Shareable on LinkedIn
Share your Course Certificates in the Certifications section of your LinkedIn profile, on printed resumes, CVs, or other documents.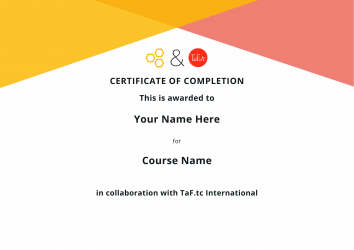 Module 1- History of Apparel Industry
Module 2- Textile and fashion industry overview
Module 3-Apparel product life cycle
Module 4-Order confirmation and management