About the Course
A huge factor determining the quality and durability of footwear is its material, component and fit. This course breaks down a shoe into different components and provides an overview of the manufacturing process. Through this course you will analyse human foot anatomy, last design and various components, accessories, materials to comprehend the underlying issues in design, prototyping and production of constructing shoes of good quality. An essential knowledge for evert footwear professionals
What will you Learn?
Learn about types of footwear and categories
Anatomy of Human foot and various factors to consider
Study technical details of footwear components, production and material availability
Learn about different Footwear accessories ,material choice and application
Over view of Footwear Production Process from concept to reality
Who is it for?
This course is meant for footwear professional, Tech designers, Buyers, Quality assurance and factory manager
Duration
5 hours
Course Partner
This Course has been designed in partnership with TaF.tc International.
Shareable on LinkedIn
Share your Course Certificates in the Certifications section of your LinkedIn profile, on printed resumes, CVs, or other documents.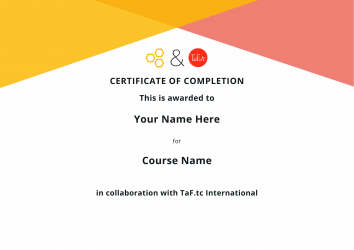 Chapter 1 - Footwear types and Category
Chapter 2- Footwear anatomy and components
Chapter 3-footwear accessories
Chapter 4- footwear production process