About the Course
Unique and fast paced design and product development is key to survive and remain competitive for fashion retailers in today's world. Brands asking value-added services with manufacturers to create the most relevant collection in the shortest time for them. Garment manufacturers have to develop their own product development team to meet their buyers requirements. Product development is not just about the creation of new samples – it has to meet the criteria and needs of the brand persona , therefore it is important for product developer to be familiar and understand whole process and techinical skill set envolved.
This course will give you holistic view of various aspect of product development. From understanding the customers to the creation of design, articulate the various elements of product development and how to meet these challenges in the shortest possible time while generating the right product at the right time.
What will you Learn?
Understand what is Fashion Design and Product Development Process
Learn about Fashion Season and their Characteristics
Fashion cycles and Categories for Product Development
Customer Types and Demographics
How to conduct and analyze Market Research and Trends
Type of Design boards for Collection Development
How to use Design boards for Collection Development
Type of Garments and how to comprehend details
Type of Embellishments and how to use them
Who is it for?
This is meant for Fashion designers, Merchandisers, Product Developers, Planners, Buyers and Marketeers.
Duration
Approx. 12 hours to complete
Suggested: 4 weeks of study, 3 hours per week
Course Partner
This Course has been designed in partnership with TaF.tc International.
Shareable on LinkedIn
Share your Course Certificates in the Certifications section of your LinkedIn profile, on printed resumes, CVs, or other documents.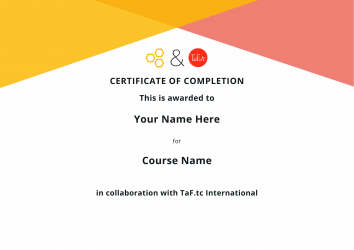 Chapter 1: Fashion Design vs. Product Development
CHAPTER 2: Fashion Seasons
Chapter 4: Store /Brand Category Types
Chapter 5: Brand Category
Chapter 6: Customer Demographics
Chapter 7:Market Research