Get Started
This course is currently closed
About the Course
The COVID-19 pandemic had heavily affected the apparel industry. The crisis resulted in significant losses and order cancellation and caused widespread job cuts. However companies who were digitally adaptive were less affected then others, They benefitted in terms of costs, product development speed, and time to market. Fashion industry is in the age of digital transformation as more digital innovation and solution are becoming available to fashion companies . Post pandemic, It has become even more significant for apparel manufacturers to adopt digital transformation due to changes in consumer demand, market behavior and availability of technology at low cost. Its key to sustain and competitive in the market.Digital transformation is application of digital capabilities to processes, products, and assets to improve efficiency, enhance customer value, manage risk, and uncover new monetization opportunities. Every fashion company today aspires to become more agile to produce the right products faster, to delight customers with on-trend designs, and to produce compelling products
that build brand loyalty.This course has specially designed to help you embark on your digitalisation journey, it provides overview of available solutions and how it can help your organisation. It mainly divided into 3 important component of the supply chain Pre production, Production and Post production This is a very interactive course with many case studies, live sessions and interactions , each participants will receive solution list directory for their easy reference.
Total training hours:
 48 hours – to be split as per convenience
Mode of delivery:
online/offline as per
Who can attend the training?
– Designers, Merchandisers, Product developers, buyers, People are involved in procurement and technical details- Factory managers, owners, CEO, Quality in charge etc
Course coverageTopic 1
–
Preproduction (24 hours)
This section covers the introduction of Industry 4.0 and different types of digitisations solution available for companies at preproduction stage such as design and product sketches, technical specifications, sourcing, virtual prototyping , Fitting and product life cycle management software  etc.
| | |
| --- | --- |
| 1 | Introduction to Industry 4.0 |
| 2 | Physical System – Elevate to Industry 4.0- such as process /machine automation |
| 3 | Digital System – Elevate to Industry 4.0 |
| 4 | Building blocks for Industry 4.0 |
| 5 | Digital Sourcing – closer to the supply chain using digital sourcing platform , Introduction of the available platform and services |
| 6 | Design Tools |
| 7 | Virtual prototyping and design software  such as CLO3D, V stitcher |
| 8 | Virtual design software |
| 9 | Digital Tech Pack creation tools |
| 10 | Case study of successful implementation/Best practices from Industry |
Topic 2 – Production (SMART factory concept) 24 hours
This section covers Concept of smart factory where  physical production processes and operations are combined with digital technology, smart computing, and big data to create a more efficient system  for real -time production and quality data capturing and processing of data toward controlling the processes.
Smart Factory  Introduction
1
 Smart Factory Introduction
Smart Warehouse ( Raw material / FG)
3
Warehouse Management System
4
Automated Picking tool
5
Automated Guided Vehicle
6
Automated Inventory Control Platforms
7
IOT Implementation
Smart Sample Room
8
Introduction to  Measurement to Pattern
9
Digital Pattern Making
10
3D Simulation of Pattern – Optitex / Clo
Smart Cutting Room
11
Automatic Spreading Machine
12
Automatic Cutting Machine
13
Camera based cutting solution
14
Single layer laser Cutting machine
15
Automatic Fusing Machine
Smart Sewing Room
16
Introduction to Template based sewing
17
Establishing Smart Preparatory Section
18
Different types of Automatic Sewing Systems
19
Application of template based sewing product lines
20
Robotic based sewing process
21
Fully automated sewing product lines
Smart Finishing Room
22
Introduction to automatic finishing line
23
Automatic Finishing process
24
Automatic folding / Packing line
Smart Wet Processing
25
Sustainable Washing
26
Tunnel washing machine
27
Automatic Wrinkle free process
Smart Embroidery & Printing
28
Industry 4.0 applications in Embroidery
29
Industry 4.0 applications in Printing
30
Automated Loading & Unloading Mechanism
Smart QC System
31
Introduction to camera based inspection system
32
Smart inspection Applications
Smart Material Handling System
33
The hanger system
34
Automated Guided Vehicle
35
Conveyor System with RFID based tracking System
Smart Information System
36
Smart Tools for Order Management
37
Smart Tools for deriving Standard Time
38
Smart Order Tracking
39
QR code based tracking system
40
RFID based Tracking System
Building Smart Factory
41
Value Stream Mapping
42
Automating Physical process
43
Automating Digital process
44
Team to build Smart Factory
Shareable on LinkedIn
Share your Course Certificates in the Certifications section of your LinkedIn profile, on printed resumes, CVs, or other documents.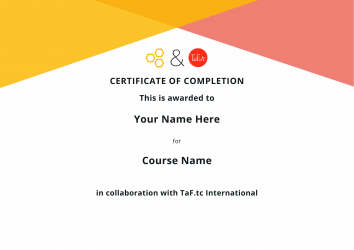 Final Assignment/Assessment